You are about to run the HERITAGE PRIVATE SCHOOL – COMPUTATIONAL THINKING COMPETITION.
Your Reference ID is F13DC85A0966 - Please make a note of your Reference ID so that you can check your results.
We wish you success!
ORGANIZERS
INSTRUCTIONS TO STUDENTS – PLEASE READ CAREFULLY
You are about to start a sample/demo BEBRAS Competition to familiarize yourself with the competition environment and the types of questions. Please note the following:
You will have to choose the language in which the competition questions and answers will be displayed.

Your options are the Greek and English language.
Once you select the language and you start the competition, you CAN NOT change the language.

Τhe questions are displayed sequentially.

The question number appears to the right of your screen

The Questions' Panel

1: Current Question 2: Unanswered Question 3: Skipped Question
5: Answered Question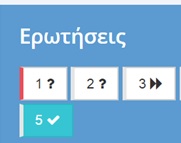 Navigation amongst the competition questions:

Use the navigation buttons at the bottom of your screen.
Skip a question using the SKIP button.

If you give an answer and you skip the question, your answer is saved but the question is considered as skipped. Thus, it will take zero marks.

Go to the previous question using the PREVIOUS button.
Submit your answer using the SAVE and VIEW NEXT button.
Go to a specific question by pressing on its number.

The Finish Competition button:

Will appear when you visit all questions.
You will then have the chance to revisit any questions you want.

Marking

Only questions that have been saved are marked.
Correct answers carry positive marks. Wrong answers are marked negatively. Skipped questions are marked with zero marks.

Timer

You can see a timer at the top right of your screen.
WARNING: If you leave/exit the browser after you begin the competition, the timer continues to count.
Notifications about the end of the competition will be given at 10, 5 and 1 minutes before the time expires.

GOOD LUCK!
STRATEGIC PARTNERS